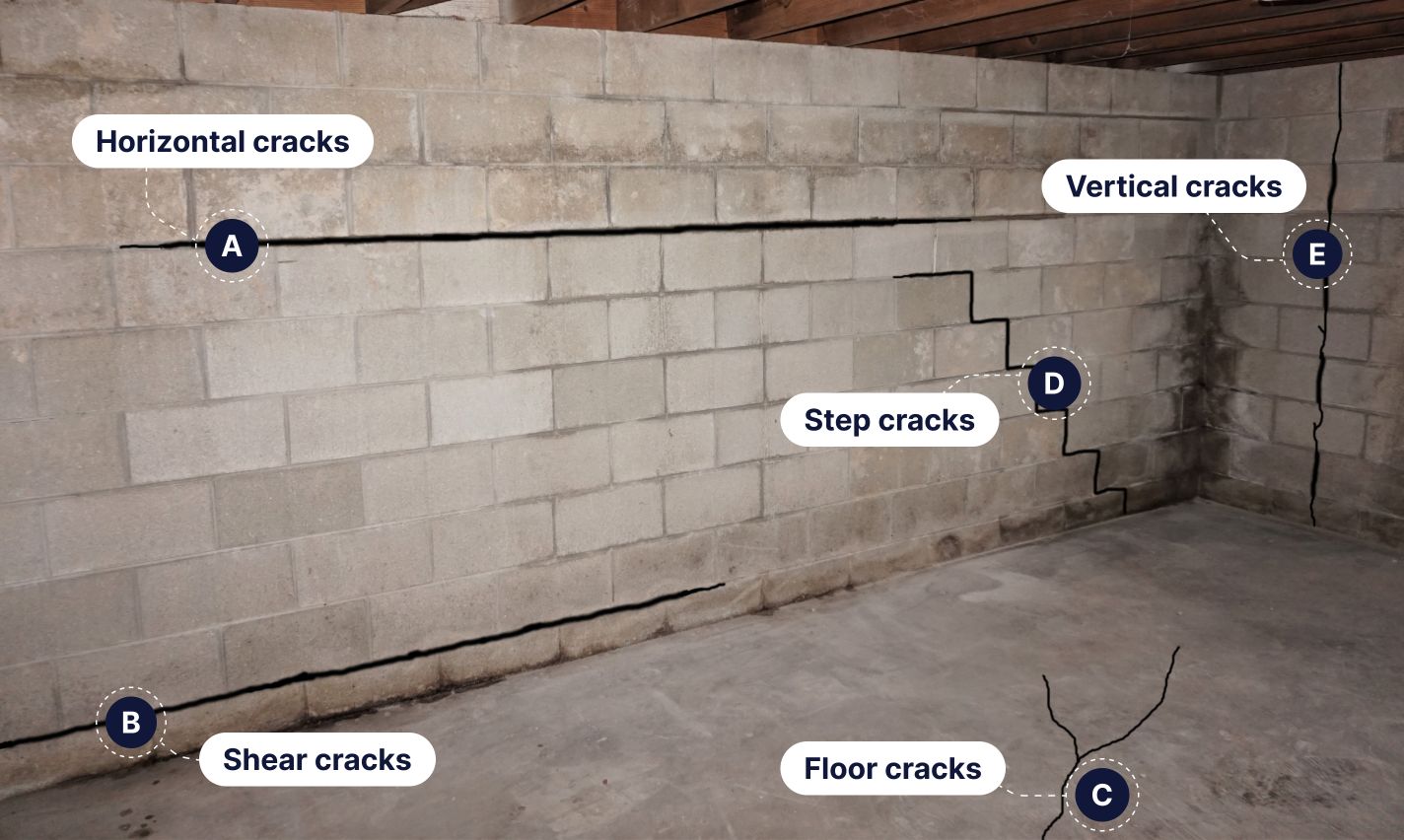 Foundation Repair
GSI Foundations Are The Foundation Repair Experts
Have you noticed cracks in your basement floors or walls? Worse, do you see water or watermarks on the floor or walls of your basement? These are all warning indicators that your foundation needs to be inspected and likely, repaired.
The foundation of your home is literally what your home rests on. It provides the stability and strength you rely on and when it is compromised in any way, it can affect every other aspect of your home. GSI Foundations can help. Our certified team can inspect your foundation and identify any issues. With more than two decades of professional experience in this exact industry, we have the knowledge and expertise needed to repair your foundation right, the first time.
Cracks In Your Foundation?
Small cracks are normal as your home settles over time. However, most cracks in a basement or foundation, if not repaired, can lead to homeowner headaches down the road. Cracks in the foundation can allow water to seep in which can cause mold, mildew, and bowing walls which compromise the stability of the foundation. It is vital to ensure your foundation is intact and stable such that it can handle normal pressure caused by freezing and thawing as well as hydrostatic pressure caused by water in confined spaces pressing against basement and foundation walls.
Not all basement or foundation cracks are the same. There are many different causes and if they're left undiagnosed and untreated, they have the potential to cause problems down the road. Our professional team can assess your foundation, identify what kind of crack it is, and then determine the best solution to repair it.
Below is an image of common foundation issues and the various types of cracks we handle. If you see any of these cracks in your foundation or basement, give us a call to schedule an assessment.
Most Common Types of Foundation Cracks
Horizontal Cracks In Your Foundation

Vertical Cracks In Your Foundation

Shear Cracks In Your Foundation
Step Cracks In Your Foundation

Floor Cracks In Your Foundation
Our professional team of experts will investigate the cracks in your foundation, diagnose the problem, and offer the most efficient solutions to repair your foundation.
What Causes Cracks In Your Basement And Foundation?
There are many things that can cause cracks in your foundation and basement.
Particularly here in the Midwest, temperature changes have the potential to wreak havoc on basement flooring and foundations.

Tree roots
Excessive rainfall

Proximity to bodies of water, lakes, rivers, streams, ponds
Protect Your Investment!
Your home is one of the largest investments you'll ever make. As a homeowner, you take pride in caring for your home and keeping up with proactive and preventive maintenance. By taking care of issues and repairs before they become larger problems, you gain the peace of mind as you enjoy your home for years to come. Also, when and if you choose to sell your home, ensuring your foundation is in excellent condition adds to the value of your home and makes it extremely attractive to prospective buyers.
Don't let cracks or leaks in your foundation lower the equity in your home or empty your bank account. Protect your investment by scheduling an assessment with the professional team at GSI Foundations.
Tips From Our Team!
New construction? Older home? Doesn't matter. Ensuring your home is properly graded will keep rainfall and other debris from collecting and placing unnecessary pressure on exterior walls, which can lead to cracks in the foundation and costly repairs.
Be mindful of tree roots, especially larger trees, which can grow and create underground pressure on nearby foundations.
Ensure your gutters and any rain downspouts are cleaned and properly aimed to carry and distribute water far enough away from your home to not seep in the ground.
If you're thinking of selling your home, investing in repairs now will avoid costly repairs that may come up in a home inspection — something that buyers and investors will appreciate! And even if you aren't planning to sell your home any time soon, making necessary repairs now will protect the investment you've made in your home – the longer basement issues go unaddressed, the more costly it will be in the future as the issues worsen. Investing in foundation repairs now, will help prolong the life of your home, and will help ensure you can continue enjoying your home, stress-free, for years to come.
What Our Clients Say
Our business was built from the referrals of happy clients and we couldn't be more grateful. Word of mouth is the best form of advertising. It's personal and so much more meaningful than anything we could share with you.
Schedule Estimate